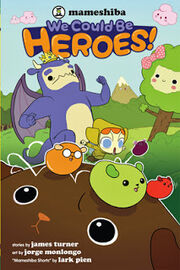 Mameshiba: We Could Be Heroes! is the second volume in the Mameshiba graphic novels.
The beans are BACK!
Chili Bean's in love, Cocoa Bean's larger than life, and you won't believe what's under Red Bean's bed!
The cuteness is epic, and the adventure is better than ever! - VIZ Media
Publishing Details
Edit
MSRP: $6.99
Length: 80 pages
Release Date: July 3rd, 2012
Ad blocker interference detected!
Wikia is a free-to-use site that makes money from advertising. We have a modified experience for viewers using ad blockers

Wikia is not accessible if you've made further modifications. Remove the custom ad blocker rule(s) and the page will load as expected.