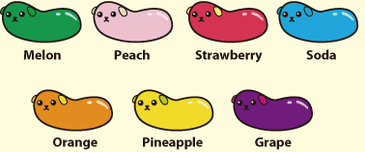 Jelly Bean is a group of Mameshiba. There are seven Jelly Beans total, each with a unique color and flavor. They made their commercial debut in Mameshiba 10. Their fact is,  "Koala's appendix is about 2 meters long"
Orange (self-explanatory)
Like Chili Bean, these Mamesiba appear in another country than Japan. They appear in America.
The Jelly Beans don't speak Japanese very well, as heard in their commercial.
Ad blocker interference detected!
Wikia is a free-to-use site that makes money from advertising. We have a modified experience for viewers using ad blockers

Wikia is not accessible if you've made further modifications. Remove the custom ad blocker rule(s) and the page will load as expected.